What To Do After A Big Win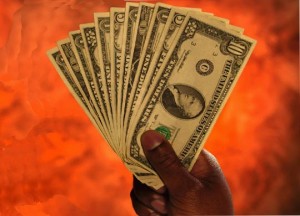 You would not think that winning a poker tournament or having a series of substantial wins at the cash game tables could have a negative effect on your game and psyche but often winning big can be worse for a poker player than losing, but only if they handle the big win in the incorrect manner.
Between February 27 and March 13 the sixth annual Betfair GSOP $3.3 million guaranteed series takes place and a number of players will be lucky enough to win one of the 15 events on offer, some with guaranteed prizepools of $500,000! Winning such an event should see that player walk away with at least $100,000 if not more, so how could winning that much money be a bad thing?
A common problem amongst those fortunate enough to win a poker tournament is they begin to not only think but believe they are much better poker players than they actually are. After all, they have outlasted several hundred othe r players to claim the title so surely they have this game cracked. They then go on to play much higher stakes, both in cash games and high buy-in poker tournaments and proceed to discover they are not as skilled as they initially thought, albeit after losing the majority of their winnings and sometimes more besides.
After a big win the best action a typical poker player could take would be to withdraw at least 75% of it and either invest it or treat your family and friends with it. Not only does doing this prevent you from playing much too high for your skill levels, it also awards those around you for putting up with your rants, screams and swearing when you have not been so lucky at the poker tables!
Investing your money does not necessarily mean putting your money into a bank, bonds or shares as you could invest some of it in a poker coach and developing your skills further, which should hopefully see you win more money in the future. Many sponsored professional players, and you could be one if you win the Betfair GSOP Hattick promotion, offer their services for an hourly rate where they will sit down with you and go through everything that it takes to become a regular winner at your chosen game.
Above all you should try to keep your feet firmly on the ground, do not get carried away with the fact you won a tournament. By all means celebrate your amazing feat but remember that just because you luckboxed your way to a first place finish you have not suddenly become Phil Ivey.
Good luck!