The Life Of Stu Ungar (Part 2)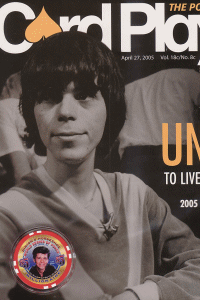 Stuey the Kid (also called Stu Ungar) was one of the best poker players in history. However, his interest in poker was actually prompted by his genius in gin rummy. He was so good that casinos banned him from playing, because nobody wanted to join a table where he was seated. This led him to start playing poker.
He was an excellent poker player, who dominated the tables and left those older and more experienced than him in a sweat. He enjoyed seeing the panic on their faces – the hope, the sudden realization that they would lose, the desperation.
"It was fucking beautiful."
Pretty soon his reputation at poker overshadowed even his reputation in gin, though Stuey still thought of poker as a "second love." He once said, "Some day, I suppose it's possible for someone to be a better Hold'em player than me. I doubt it, but it could happen. But, I swear to you, I don't see how anyone could ever play gin better than me."
At the time, though, it seemed impossible that anyone could beat Stu at anything. He was the youngest champion of the World Series of Poker, beating the legend Doyle Brunson in 1980.
In 1980 he entered the World Series of Poker looking for more high-stakes action. He won the main event, defeating poker legend Doyle Brunson, and became the youngest champion in its history at the time (the record would later be broken by Phil Hellmuth). Because of this record, and the fact that he looked even younger than he really was, people started calling him "The Kid."
Stu was also a world-class blackjack player, due to his skill at card counting. He had an eidetic memory and could keep track of the cards in a six-deck shoe. In 1977, casino owner and developer Bob Stupak dared him to count down the last three decks in a six-deck shoe. If he succeeded, he would win $100,000. It was one of the easiest winnings Stu ever made. Because of his card counting skills, he was also banned from many blackjack games.
Stu seemed to excel in every card game he ever played, and he would've easily had a long and extremely profitable career. However, Stu's troubled childhood caught up with him. He had grown up on the streets, and because of his early exposure to gambling, had spent most of his youth in smoke-filled bars. He had little parental guidance, and his role models were not the most ideal.
One indication is how – when he had difficulty getting a passport – he misinterpreted an airport official's instructions to pay an expedite fee (meaning the standard option offered to all passport applicants) he immediately thought that he was asking for a bribe.
This environment also introduced Stu to drugs, and the drugs would lead to his downfall. No person could beat him at the tables: he was a genius at gin rummy, poker, blackjack. But in the end, one of the greatest and most intelligent card players in history would throw everything away on the stupidest gamble of all…
Cocaine.