The Life Of Stu Ungar (Part 1)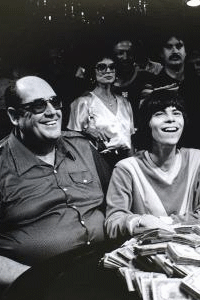 He was called "Stuey the Kid", and was one of the best poker and gin rummy players in history. Unfortunately, his skill at the tables was matched only by a string of poor personal decisions that left him in debt. When he was found dead in 1998, at just 45 years old, he had lost all of the $33 million he had accumulated over the years.
Stuart Errol Ungar was born on September 8, 1953. His father, Ido Ungar, was a bookie, and the young Stu learned the game at an age when most boys were playing baseball in their backyards. Ido was not pleased, but despite his efforts to divert his son's attention from the game, the boy showed an unstoppable interest in gin rummy.
Then one day, even before Stu hit his teens, Ido suffered from a heart attack and passed away. He had lost his father – and with his mother sick as well, it was up to Stu to support his family, and he became a professional gambler.
Stu found another father figure in Victor Romano, a Genovese soldier. Romano had a near-photographic memory, and knew the names and definitions of every word in the dictionary. Like Stu, he enjoyed the challenge of calculating odds and finding ways of using it to win the game. For Stu, Romano was a mentor, a friend, and his protector.
Even then, Stu had an erratic temperament, and would annoy other players because of his penchant for loudly criticizing the playing style of opponents. He made them feel that he was "better than them", and probably was to some extent – his assassin-like precision during a game quickly revealed their weaknesses. Without Romano there, he may have had a taste of their "irritation" with him. For example, someone he defeated in a game attacked him with a chair. (It was a mafia-run bar, the last place where anyone should make any enemies.) The next day, the attacker was found dead.
Stu had won his first gin tournament when he was 10, and by the time he was 15, he was one of the best players in New York. He was earning $10,000 tournaments, and was so famous (and feared) that it was difficult for him to find people willing to play against him. He even beat the best gin rummy player of his time, Harry Stein (also called "Yonkie" Stein) – prompting the legend to stop playing the game altogether, because of his humiliating loss against the young upstart. Just to get someone to risk a game with him, Stu would create gin handicaps: letting the other player check the last deck, assuming the dealer position, offering rebates. He still won.
In fact, one popular story narrates how a known cheater tried to pull a fast one over Stu. One of the bystanders (some claim it was his bodyguard) hurried over to him to warn him, and even offered to have the man kicked out. Stu was unperturbed. "Oh, I know he's cheating. Don't worry. I'll beat him anyway."
And he did.
Without anyone to play against, Stu started looking for other ways of betting, including the race tracks. Unfortunately, he was not as successful there, and his gin rummy earnings were not enough to absorb his losses. He quickly left town, and moved to Florida, then Las Vegas. By 1976, he married his childhood sweetheart and had a child.
It was a new chapter for Stu.
A new city, a new wife, and also – a new game.
There in Las Vegas, he discovered poker.