Ricky Jay Plays Poker – a Poker DVD!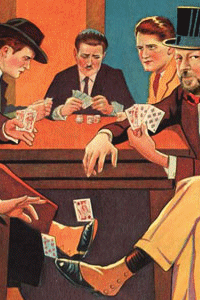 Have you ever thought about what kind of music you like listening to when playing poker? For that matter, have you ever associated poker with music? To be honest, I've never thought about this before until I came across an album about poker. You got that right, someone came up with an album with songs all about poker!
The album Ricky Jay Plays Poker is comprised of various artists and offers listeners a chockfull of poker tunes. What do we mean by poker tunes? Well poker tunes are basically songs that talk about anything related to our favorite card game. With songs from Dylan, Townes Van Zandt, Patsy Cline and "Bonanza" actor Lorne Greene, it's sure to give you a blast whether you're playing a game or not.
How about genres represented in the album? Well the names I mentioned above should give you an idea about what to expect. Blues, country, musicals, and even celebrity "schlock" are all present on the album. That should cover about almost every taste on the planet, don't you think?
Aside from the music itself, the album features stories about the songs. More than that, you will be treated to a narration of the history of poker. A DVD is included in the package as well. The DVD features Ricky Jay (who, by the way, wrote the lines for the stories mentioned above) as he entertains friends with poker stories and a host of card tricks. In addition to this, you will also get a deck of cards, which Ricky Jay claims are unmarked. Neat, huh?
Now that I think about it, we like playing poker with some tunes in the background. For music lovers such as us, I think this album is a great alternative to all the mainstream music that we hear today. Not that I'm saying that this should be all that we listen to. Of course, a break is needed from time to time and I think this one would be a great buy – especially for those poker fans out there.
On a deeper line of thought, the release of this album package is a testament to the popularity of poker these days. Despite the bans and the various controversies surrounding the game, it seems that more and more people are willing to take up poker. Let's face it, the brains behind this album would not set out on a venture like this if they didn't think that they would somehow make a profit out of it, would they? I mean, sure, it's an entertaining and worthwhile venture if you're really into the game and the music as well. Yet no one would invest any amount of money into a losing endeavor. They must believe that there is merit in doing this. With that being said, I would just like to reiterate that I think that despite the measures being taken against poker nowadays, it is doing quite well. In fact, the poker world is thriving!