Review: The Poker Pen IS Mightier Than The Sword!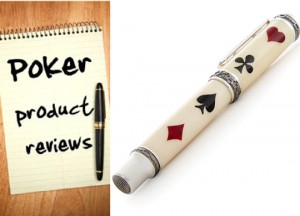 I usually get a lot of digital products like poker bots, poker calculators, etc. that intrepid gaming programmers want me to test out and review.  But occasionally, someone mails me a physical poker-related product to review.
A few days ago, I received just such an item that really excited me.  It's not a poker-related product that I've ever seen before.  It's a "poker pen" from PokerPens.com.  And let me tell you, this isn't your pocket ball point pen!  (For starters, it's a "rollerball" pen)
The Background
PokerPens was inspired by a group of avid poker players who were looking for a gift for their tournament director.  In the context of finding a gift for the poker guy who already has everything traditionally poker-related, they came up with their own idea to offer unique poker-themed gift items – pens.  Prior to this review, I wasn't aware of PokerPens.com.  But they launched their business at PokerPalooza, the poker expo at WSOP at the Rio in Las Vegas – where they were a hit.
The Service
Many SmokePoker.com visitors will be pleased to know that PokerPens does ship internationally.  They will ship any order over $600 anywhere in the world for free (at time of writing).  Their service or guarantee behind the product is divided into three core areas: Guaranteed Quality, Superior Service, Passion for Poker.
The products are hand-crafted, assembled, and inspected to ensure superior quality.  Their refund policy is 15 days from ship date (which considering worldwide shipping I would like to see it a bit longer).  But they do offer a one-year warranty on their products covering manufacturing defects, fit or finish.
The Service core expresses their commitment to customer service and restates their return policy.  I would like to see full address, email and contact information on their Contact Form, but they do list their Toll-Free phone number there which is adequate.  If you click the customer service link, you will see the full terms and policies including Tracking Link that you can use to track the package (a plus!).  Also note, they accept all major credit cards (including Discover).
The final Passion core states the founders' commitment and love for the game.  I think somewhere I read that they are open to suggestions for future poker-related products.  I think that's pretty neat when dealing with a retail site that actually makes its own products.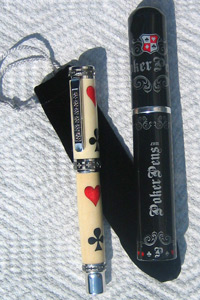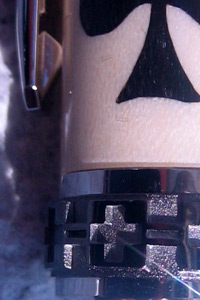 The Products (pricing is US$)
At the time of writing, PokerPens offers 3 luxury, high-end poker (card) themed pens (Poker Royale – $145, Emerald Poker – $235, and Pearl Poker – $235).  They have also expanded their product line with a unique set of Stainless Steel Playing Cards for $125, as well as new items to be launched in September 2010.  It's safe to say that the current products look spectacular in the product shots, but are they worth the price?
I've noticed that unless you are looking for solid or collectable poker chip sets, there is not a lot of choice in the mid to high end poker-themed gift market.  This is an excellent and lucrative niche that PokerPens has carved out.  They are bringing unique, luxurious products to market that make appropriate gifts for men or women who play poker or really ANY card game.  I have an elderly aunt who loves her bridge game.  I'm thinking this would make an excellent and thoughtful gift for her because it's elegant and reflective of one of her passions.  So it's nice to see that these products can even transcend traditional poker.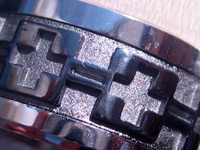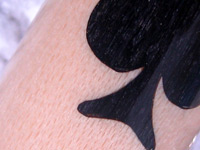 The Review
Okay let's get into the meat of it.  My test product arrived in a First Class Mail bubble envelope.  When I opened it up, there was another bubble wrap pocket that contained the cylindrical metal capsule or housing for the poker pen.  The capsule is all black with the PokerPens branding and decoratively adorned with card suits and the PokerPens tagline.  The initial presentation is pretty impressive.  The only thing I noticed was a small dent in the top of the cap which I assume may have occurred during shipping.  Not a huge deal, but if this were a gift, I would exchange it which shouldn't be a problem due to PokerPens warranty.
The capsule itself emulates a pen and/or cigar case (a natural fit for the poker enthusiast).  The top pulls off revealing a black velvet pull string bag that can be removed from the capsule.  I have a knack for detail.  And I can't help but notice that the pull string is the same grey tone (not white as I would expect!) as the logo on the outer capsule wall.  Whoever did the design work coordinated all of this beautifully.  And to be honest, for $235 I would not expect less.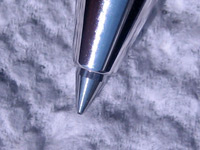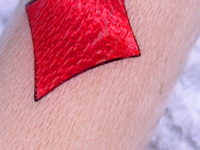 The pen (in my case Pearl Poker) slides out nicely.  I'm immediately struck by the pen top which has a celtic looking pattern carved in (and also at the base) .  The pen has a decorative carved banding at the top, middle, and bottom and along the clip.  The shell around the top and middle is swirled and a little translucent off-white, pearl-ivory colour.  On one side there is a heart and clubs suit image and the other the diamond and spade on both the cap and the pen shaft.  The top cap screws into the shaft of the pen to close and open it.  The suit pattern doesn't quite line up to the cap pattern or clip as shown in the product shot on the PokerPens website when the pen is capped/closed.  If that is something that would bother you, the Poker Royale style may be a good alternative.  If it's a defect, again, the warranty should cover this.  PokerPens consistently stresses their attention to detail and quality – so I have no doubt that they would fix this if it bothered you.
The pen is quite heavy (which is good) and feels a solid weight in my hand.  It is a rollerball tip and writes amazing.  Refill cartridges can be ordered through PokerPens for a mere $4.95.
The full details for this item as well as other can be seen on PokerPens.com.  Be sure to click the "more" link in the product description to get the FULL description.  There's a lot more that goes into a luxury pen than I realized!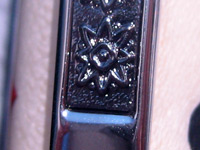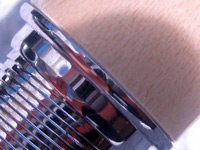 Conclusion
The PokerPens website is easy to navigate and well constructed.   As they increase their product offerings, there will likely be more choice to fit various budgets. The Pearl Poker pen was the item that I tested – and also the most expensive on the site – and found it to be very luxurious and gift-worthy in presentation and functionality.  But is it worth $235?  Luxury pens aren't cheap gifts as the good folks at Montblanc know.  This is a unique hand-crafted product that probably will cost more in future.   And I say this because I see PokerPens.com now has some recent professional poker player endorsements.  Personally, I think it's priced well.  But with the promotion below, it looks like a solid deal.
Overall, I was thoroughly impressed with the product.  There's probably no better way to present a writing instrument product.  My only mild concerns were potential glitches with the dent in the capsule top and the lining up of pattern on the cap and shaft of the pen.  Then again, most people wouldn't even notice this.  And there is a one-year warranty which is generous for a product of this kind.  Other than that, this is a great product and it's the only preventing me from giving this a full 5 out 5.
SMOKEPOKER REVIEW (OUT OF 5):




1/2
PROMOTION: Writing a review takes a bit of work.  I'm not paid for providing this review.  However, I do like to leverage my effortwith any kind of deal or promotion that a company is willing to provide and pass that along to all of you!  In this case, PokerPens.com has generously offered to provide an exclusive discount to SmokePoker.com visitors and newsletter subscribers.
If you decide to purchase, you can save 20% of ANY PURCHASE with COUPON CODE:  "Smokepen20".
Note:  This code can only be used once per customer and is limited time only (will expire without notice).
_______________________________________________
ADDENDUM:  Since posting the review, PokerPens.com contacted me to update readers on the following: "… Captain Tom Franklin has endorsed our products and will be our spokesman.  We plan on having a blog for him on our site soon, providing poker tips and stories, etc. on a regular basis.  We also have his latest table game invention, Blackjack Tie, on our site to try out.  Believe it or not, he was the inventor of Pai Gow Poker!  Please stay tuned for some really nice changes to the site and to more interesting products in the near future…"
"With regard to the dent in the cigar tube, this is the first time I have heard a customer tell me this.  I think we will decide to double wrap the tube…  We spent a lot of time (and money) designing those tubes so they don't just get thrown away.  We felt that a cigar tube case for the pen was novel and perhaps useful since a lot of poker players enjoy the occassional cigar."
"Yes, the suits do not line up exactly.  It takes a little care to get them to line up.  The threads have multiple entry points.  We will try to adjust this for the next round so that they line up appropriately.  I believe this is very do-able."
***Note: All Photographs were taken by me for the purposes of this review and are photos of the actual review product that was sent to me.