Review: You Only KNOW Poker When You Can QUOTE It! Fun Poker Quotes Book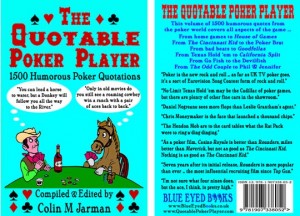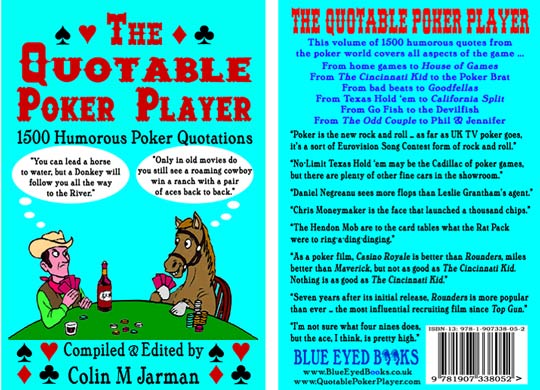 You learn the game.  You play the game.  You play the game online.  You watch it on television.  You may even read instructional books or pro player biographies.  But have you ever imagined being able to quote poker?  Or rather dish out famous poker quotations and quips?
I admit I never really considered anyone would compile an encyclopaedia of poker quotations.  That is, until I received Colin M. Jarman's "The Quotable Poker Player" in the mail.  Essentially, The Quotable Poker Player (TQPP) is a thorough compilation of over 1500 poker quotes or attributed remarks taken from pro players, celebrities, films, historical figures, etc.
Now I'm not a huge reader.  Despite being an English and Theatre major in university, I have rarely found the time to pick up a book for a good read.  And when I do, it's usually related to my businesses or technical in nature.  So I was understandably relieved to see that TQPP is more a reference book than a suspense-laden page-turner.  But the funny thing is, once I started flipping through it… I couldn't put it down! There are some good, funny, and smart quotations in the TQPP.   And improbably, it IS a good read.
The Background
Author Colin Jarman has published over 25 books in the United States and in the UK through publisher Blue Eyed Books.  He's written just about every kind of book from biographies to humour to science.  TQPP is one of his newest books in his quotable book series.  Colin spent nearly two years compiling the quotations for this book.   And it shows.  With over 1500 references, there's a lot of exhaustively researched material packed between the pages.   Colin used a systematic process of evaluating the content for his book through the lens of "hilarity", "cleverness", and "originality" to select the quotations that made it into the book.
The Product
The book is a 156 page paperback with a 2010 publication date.  The contents are divided into 12 chapters or general categories which are further subdivided within each chapter.  Some notable chapters include Poker Faces (real & fictional), Poker Warfare, Poker Song (yes, this book couldn't possibility have credibility without a mention of The Gambler by Kenny Rogers), and a concise chapter on Poker Movie quotations.  There is no foreward or afterword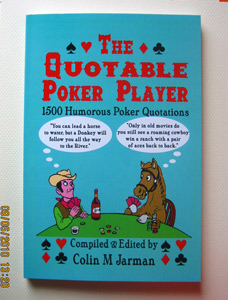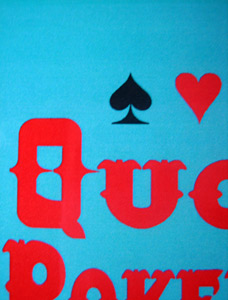 The Review
Okay, so it's a quotations book.  There's not really much to review.  There's obviously no narrative or compelling writing structure.  However, the quotations themselves had to be assembled, organized and edited into the book.  There are quotations from almost every major poker personality and player.  What I was particularly impressed with was the eclectic nature of the quotations.  Besides, the usual poker pros you see and hear about at WSOP and WPT, there are quotes attributed to "Fulltilt.com" for example, as well as celebrity players like Jason Alexander, Brad Garrett, etc.  It's a great mix.  Overall, this is a great flip-through-read book that makes for an interesting browse.  The special treat was the movie quotes and lines that related to poker, as well as music lyrics, etc.  And given the recent publication date, it's pretty up-to-date with 2009 and 2010 references.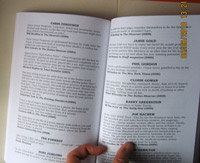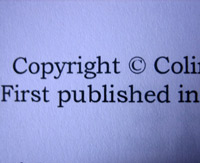 That being said, I found the overall book to be a bit cheaply-made.  I am not familiar with the publisher but it could be a self-published book.  It seemed a little crammed and hastily put together.  The cover illustration is a little cheesy looking and I'm not a personal fan of the font used.  But I suppose you could argue that the book has an intentional campy, quirky sort of feel to it.  I also found that the author was reaching a bit when it came to certain quotations.  Like the Gus Hansen quote, "I like to see a lot of flops" seems to me more of a general statement that a humorous, interesting observation.  I'm not sure I would've included it in the book.  But then again, I'm not the author!
On the flip side, there are also tons of gems in here – too many to list.  But I loved some of the online poker promoting quotes (ie. "Show me a professional player who refuses to play on the Internet these days and I'll show you a dinosaur." – Jesse May (2005)) .    There are some really, really funny quotes in here as well.  I highly recommend checking out the author's site.  If you want to preview some quotation prior to purchasing, the author's site is peppered with interesting quotations.  If you wish to purchase your own copy of TQPP, you may do so at the site.  The Quotable Poker Player sells for 10.99 to 14.99 UK pounds (depending on shipping).  For US orders, you can order direct from the author's site (http://www.blue-eyed-books.co.uk/poker-quotes-book) for $21.99 inc S&H.
SMOKEPOKER REVIEW (OUT OF 5):
CONTENT: 




|   APPEARANCE: 



1/2
_______________________________________________
ADDENDUM:  Author Colin Jarmin has kindly offered to respond to a few points in my review: "… I would like to answer a couple of your comments, which I fully accept and understand your point of view but there are perhaps extenuating circumstances.  The 'cheaply-made' look of the book is the house style for all Blue Eyed Books'  humorous quotations titles – and is pretty much the industry standard for such light-hearted material. The campy cheesy covers immediately tell the reader this is not to be taken too seriously and is a fun-packed book.  This quirky house style may also explain why the book appears to be 'hastily put together', but as you also rightly pointed out the book has been in production for over two years – so that is definitely not the case. These titles are not Bartlett's or Oxford Books of Quotations.  The Gus Hansen quote – like Gus himself – is actually a favourite of mine and makes me smile with its self-deprecating deadpan delivery. I am sure Gus said it with a smile on his face and meant it to be taken in a similar vein.  Other than these few, very minor, points I am really appreciative of you honest and in-depth appraisal…"
***Note: All photographs were taken by me for the purposes of this review and are photos of the actual review product that was sent to me.  The lead-in picture/thumbnail image was provided by the author.