Poker Tournament Basics (Part 1)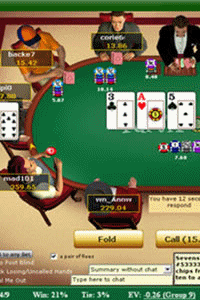 Basically, there are two types of tournaments that are popular in the poker circuit – freeze outs and rebuy.
A freeze out tournament will usually start with all of the players starting with the same number of chips. This kind of structure means that a player must have a tighter playing strategy. Once a player loses all of his chips then he is automatically out of the tournament.
The rebuy tournament, on the other hand, would usually possess a particular number of levels where a player can rebuy chips. One of the common rules in rebuy is that there are usually a certain amount of chips that a player has to be below of in order to be eligible to rebuy chips. There are tournaments that have a rebuy policy where in a player can only get lesser than the original buy in. Other tournaments impose a limited number of rebuys. At the end of the rebuy period there would often be an additional amount of chips that all of the players can buy. This step is called an add on.
There is a distinct advantage to playing in a rebuy tournament and that advantage is usually more to the house's (casino) benefit than for the player. This type of tournament is usually chosen when a guarantee has already been made with regards to the total prize money. The players also enjoy a benefit in that they tend to have looser strategies with this kind of tournament. They tend to acquire as large a stack as possible before the rebuy period is over. There are a number of rebuy variations currently in play in various tournaments all over the world. Before you enter a tournament try to find out what kind of rebuy variation is being used and study it before you even consider registering.
There are four different tournaments that depend on the length of their levels. But there are also other elements that factor into the length of a tournament level. This would include the amount of chips that players are allowed to start with, the number of players that are entered into the tournament, and the type of poker game that will be used. These would dictate the length of the tournament until it ends. The most common way that tournament directors manage the length of a tournament is by the kind of time that is allotted for each level. Smaller casinos have a tendency to actually have faster and more structured tournaments that can last from between four to five hours. Each level of play lasts for less than twenty minutes. Medium length level tournaments, on the other hand, last approximately for eight hours, with each level lasting for thirty to forty minutes. The long length tournaments take about two days to complete. The first day is usually finished in ten to twelve hours. The final table is traditionally played the next day, though sometimes, the final two is scheduled for the second day of the tournament.