How To Find The Right Poker Room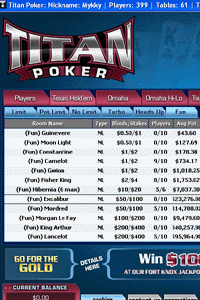 So you've decided to try out your career in online poker. Before you actually embark on your journey, you should think about where to start it. There are a multitude of online casinos and online poker rooms to choose from. The bad thing is, not all of them are good places to patronize. As with most things in life, there are those that are reliable and there are some that will just scam you.
Then there are a lot of online poker rooms which are not really out to scam players, but that are just not quite good enough in terms of benefits and game play.
So how do you go about finding the best poker room to suit you?
Perhaps the best way to do this is by trial and error, as then you experience first hand what each room has to offer. Then again, this would eat up a lot of time and even more money. Though it may be the surest way, limitations simply do not allow this method. An alternative would be to visit different independent sites that review online poker rooms. On these sites, you'll find all of the relevant information you need in order to make your decision. At least, with the information presented to you, your initial array of choices will be limited to a manageable number.
When looking at different online poker room reviews, there are some crucial elements that you should look out for. A good measure of the casino's reliability would be how long it has been in operation. The older the casino is, the chances of it being a good one. The same goes for the number of players it has. Obviously, more people playing means that the casino delivers on its promises. You should also look into the required minimum deposit. Find an online poker room that you can afford.
Most online poker room reviews also have their own ratings regarding the software and graphics, bonus rewards, quality of games, and ease of cash out. The last item is very important as this will tell you how easy (or how hard!) it is for a player to actually get his winnings in cold cash. In connection with this, analyse the options available for cashing out your winnings. Different casinos make use of different cashier options. Make sure that their options will not present a difficulty for you.
If you're looking for a specific poker game, make sure that the online poker room or casino has your game in its rosters. Some casinos only feature specific games and it would be disastrous for you if you signed up for one without knowing whether or not your game is featured. Also take note of the operating system that their software supports. Lastly, make sure that you meet their age requirements. Online gambling is not above the law. Stay clear of it if your local laws do not allow such activities. Being on the other side of the law may seem exciting, but it sure isn't worth the hassle! :)
Regardless of whether you're new to poker, or a seasoned pro, two of the very best poker rooms I'd recommend playing at are Titan Poker and Cool Hand Poker. The promotions and tournaments each of these sites run are excellent, plus they're tried and tested, so you can play there with confidence!