How To Build Your Own Poker Table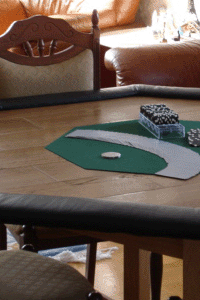 Earlier on I was talking about different kinds of poker tables. For those of you who are quite handy with a hammer, a saw, nails and that sort of stuff, you'd probably like it better if you had to make your own poker table. This option gives your more control as to exactly how you want your table to look, plus a big plus point to making your own table is the price. You can cut down on a large amount of money if you design your table, purchase the materials needed, and make it yourself. Then, of course, you also have the pleasure of seeing your handywork unfolding right before your very eyes too :-)
What do you need to get started? First decide on whether you want a full blown table or a table top. If you decide to build a table top to be used on an existing table, then you won't have to worry about what shape and size you want as you will be limited by your existing table. If you want to build a table from scratch, then you have to decide on the shape and size of your table. As we discussed in my previous article, poker tables can be of various shapes and sizes.
Once you've decided on what shape and size you want, then it's a good time to start on the table plans. If you're really creative you can design the plans yourself. If you're on the lookout for other ideas, you can do a search on the Internet and you will find a lot of poker table designs already tried and tested by other poker enthusiasts. Included in coming up with the plan is the choosing of the materials to use. What kind of wood, finishing, and all sorts of things should be chosen at this point.
When you've come up with the final plan for your poker table, then shop around your town for the materials you need. Your local hardware store will probably carry most everything that you need to build your poker table. The basic things you will need are: wood of course, wood screws, wood glue, and adhesives. Of course, for the lining, you might need to visit a fabric store. For padding, you can try different foam stores. For the finishing touches, you'd need paint or lacquer, wood stain, or whatever other things you have in mind to spice up your poker table.
In purchasing your materials, try to look out for quality. It may cost you a bit more but it will give you more satisfaction in the end. A special note is needed for the felt top. Cheap ones are easy to get, but then they also get stained and scratched more easily. That will take away a lot from the looks of your poker table soon enough so it is much better to spend a little extra.
As a last note, building your own poker table gives you a lot of leeway. Do not restrain yourself and limit yourself to existing plans and designs. This is your poker table we're talking about, let your creativity and individuality run free and you will definitely add character to your home games.