Online Poker
How Does It Work?
You know, other types of online gambling sites were launched before the first online poker room. Online sportsbooks were introduced in the mid 1990's which was also the time of online casinos sprouting up around the web, but it wasn't until 1998 that the first online poker forum was launched. Planet Poker, which has since become a relatively small poker room, enjoyed the status as the sole online poker forum for a short period of time. Other online sites entered the fray soon after. Paradise Poker was launched in 1999 and would soon become the industry leader.
Today, there are many, many sites to choose from. A search for the most popular sites for online poker show over 1,000 matches, and a Google search gives over 50 million matches for references to online poker sites. The major sites include Poker Stars, Party Poker, Full Tilt Poker, Pacific Poker, and Bodog Poker. Many offer the chance to play with "fake money" or real money. You can accumulate points at some sites that can be redeemed for merchandise bearing the site's name.
Another feature with most sites includes the offer of bonus cash with a real money deposit. Often, you can receive a code that matches the amount of your deposit up to a certain amount. For example, make a $50 real money deposit into your Party Poker account and you will receive $50 free making your total bankroll $100.
It's a matter of personal preference as to which site is best. We will remain objective in this book and will not be able to tell you which site to go to. Each one has its distinct features that appeal to the everyday player. Online venues may be more vulnerable to certain types of fraud, especially collusion between players. However, they also have collusion detection abilities that do not exist in brick and mortar casinos. For example, online poker room security employees can look at the "hand history" of the cards previously played by any player on the site, making patterns of behavior easier to detect than in a casino where colluding players can simply fold their hands without anyone ever knowing the strength of their holding. Online poker rooms also sometimes check player's IP addresses in order to prevent players at the same household or at known open proxy servers from playing on the same tables. The biggest challenge with online poker is you don't have the advantage of trying to "read" your fellow players.
A basic knowledge of the game, of course, is the first step to good play. While we would like to assume you already know the basics, you might not, so our next section looks at general terms used in poker as well as hand rankings. It's always good to have this information at hand!
If you've seen poker being played on television, and want to learn the game, I highly recommend downloading an online poker room like Cool Hand Poker and spending time at their "play money" tables first. When you're playing online the computer has endless patience with you and you can never act out of turn, because when it's your turn to act the computer will prompt you. It will tell you what options you have (Check, Bet, Fold or Raise), so you'll never have to worry about doing the wrong thing.
The computer will also let you know exactly how much you can bet or raise, so that's another worry you won't have. After a few games, you'll be much more comfortable at the poker table when you start this way.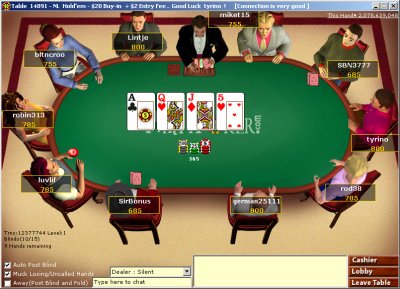 You can play many more hands in a shorter period of time when you're playing online poker. This is because the shuffles, deals, flops, turns and rivers are all done automatically and rapidly.
If you're already a poker player, online poker is fantastic for more reasons than I can possibly list. The table selection is amazing, you can grab some fantastic free bonuses from the poker rooms, find tournament action any time you want, enter cheap satellites for all of the major land-based tournaments, enjoy faster gameplay so you can get in more hands per hour (and win more)…and the list goes on!
For further information about online poker please browse the sections below:
Besides poker room reviews, real-time updates on the best-value poker tournaments from all of the major poker rooms, and background information on the various tournaments and programs (like prop play and bonuses) that are offered by the online poker rooms, on our website you'll also find poker rules for all of the different types of poker and articles and tips to help you master online poker quickly and easily.