Andy Bloch – A Poker Millionaire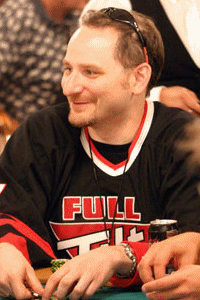 When Andy Bloch first started playing poker in 1992, he was a law student looking for a way of relaxing between midterms. Then he started getting serious about it, joining small weekly tournaments about once a month (paying an entrance fee of $35, which he saw as an "investment"). As Bloch's skills grew, so did his confidence. He took a huge risk and joined a no-limit Texas Hold 'em tournament, the World Poker Finals. He shouldered the $100(US) entry fee without flinching, even if it was the first time he had ever played no-limit. He won.
In 1997, Tom Sims asked him to volunteer to act as his guinea pig in a hole card cam experiment. He would record all his hole cards. It was the World Series of Poker (WSOP) Main Event. It was also (incidentally) the last week of classes before the big exams. It was no contest—Bloch skipped school, and the records became part of an article in a magazine.
Despite skipping classes Bloch passed the bar exam in 1999.
Now, he was at a crossroads. He had two electrical engineering degrees from MIT and a JD from Harvard Law School. He could have any job he wanted. Instead, he decided to embark on another career—playing poker professionally. In 2001, he made two WSOP final tables, and the following year, finished first place at Foxwoods for seven-card stud. He also joined the first season of World Poker Tour (WPT), participating twice and securing a respectable third place both times. (Unfortunately, his relationship with WPT was strained because of its player release process.) He also joined the second season of the Ultimate Poker Challenge, and emerged as champion.
Bloch is active in the poker community, being a member of many poker organizations, writing for sites, and even running his own unofficial fan site for the World Poker Tour. He joins major tournaments, and nearly won the 2006 World Series of Poker (instead, he finished second versus David "Chip" Reese, after a really close and well-fought game of 286 hands—the longest in WSOP history). He brought home $50,000 from that game alone. Not bad for a few hours' work, even by lawyer's standards.
Bloch has done well for himself, with live tournament winnings well over $2,200,000. Most importantly, he's doing what he enjoys. His law degree is not completely wasted, however; he continues to look for ways to use it (and his poker skills) for a good cause. Best of all, he can do it without having to wear a lawyer's suit.
Aside from poker, Bloch is also known for his skills in blackjack. He has released some of his secrets in an instructional DVD on the game, called "Beating Blackjack", which helps demystify the concept of card counting, and demonstrates simple techniques. (After all, he is an MIT graduate—card counting is part of their tradition.) He's also appeared in the documentary on blackjack, "The Hot Shoe."