Understanding Video Poker Machines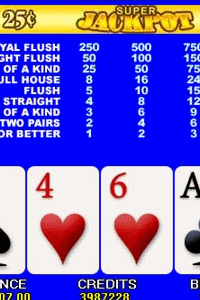 Gambling and card games may be one of the oldest pastimes in human history, but that doesn't mean they won't be touched by technology in some way. In fact, technology is changing the face of gambling and of casinos even as we speak.
More and more aspects of gambling are being reimagined with various gizmos and equipment as well as with new machines that offer a fresher experience for old time gaming favorites. For example, there is a growing trend to incorporate electronic forms of casino staples like slots, blackjack and even poker.
Video poker in fact made its initial entry to the various casinos all over the world in the seventies and today it is one of the most popular forms of gambling. For casino players who prefer to play a game of skill that has a low house edge and has large odds of winning big, while also providing the anonymity of playing by your lonesome, then there is nothing that can compare or hope to match video poker.
Video poker also has the distinction of being played very easily because of its simple rules: You play one to five coins, the machine then gives you five cards, you then get to choose which cards to hold and which ones to discard. The machine will then replace the cards you have discarded and it pays you off based on the value of the cards that you have.
Serious poker players can actually find many opportunities with the potential advantage in video poker. Just like any other form of gambling, if getting an advantage was as easy as it's often painted then practically everyone would be doing it – even the pros. Poker is a very volatile game wherein the ups and downs that one experiences even in a relatively short series of games still requires a strong stomach (to make the decisions and to accept the outcome) and also a big bankroll. There are so many variations of the game and every single one of them requires its own strategy. The successful poker player must know which tables are the best paying for each game, where to find them and how to play them.
The number of variations of video poker that are being offered by casinos is continually increasing too. There are machines that have introduced the wild card, there are games that actually feature multiple card decks and there are also machines that offer bonuses for making certain four of a kinds. There are also payoff tables that offer something different from one machine to another. In order for a player to get an edge over the machine he must be able to play strategies that are correct or as near to correct as possible to the game that they play and the payoff table that the machine provides.
The player who picks a machine at random and then plays by only using his common sense is bound to lose if he plays in the long term. More serious players trust in their strategies and always make the best play. The rule is that the more complex and long a strategy is, the closer the accuracy will reach 100%.