Review: Plenty O'Fish in the Mansion Poker Sea!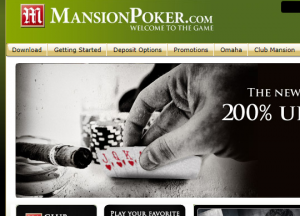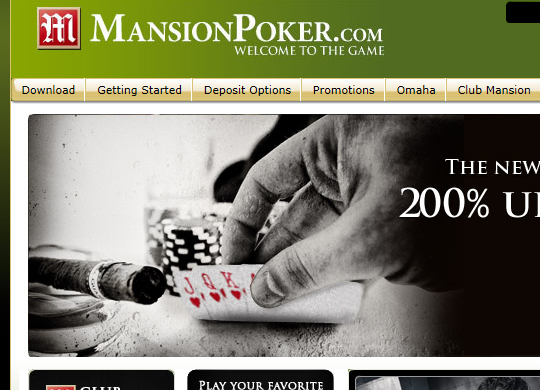 If you're looking to make some serious money playing online poker, there is no doubt you'll want to check out Mansion Poker.   Why Mansion Poker?
Mansion Poker probably one of the most popular and fastest growing online poker sites that is part of the iPoker network.  It started out as a title sponsor for the live poker show on Fox Sports network.  Mansion currently does not accept US players, but it boasts one of the busiest and most active online tournaments in Europe (during busy hours).  There are literally tons of no-limit ring games at low and mid level tables.  Of course the advantage of the iPoker network is the shared playing on tables and consistent tournament schedules.
As a popular non-US  poker site, Mansion Poker has a solid stream of amateur player traffic.  You can take advantage of this and win big if you use a buddy list while playing at consistent times.  Or get the right Table Scanners to make sure you're seated in the right spot.  One of my good friends plays exclusively on Mansion Poker for that reason alone.  He intentionally plays during the busy hours  (Europe time) and wins big.  He uses a lot of the poker software I describe on smokepoker.com (see Tools section).  BUT, you don't even have to invest in poker software to still do well if you're a non-US player!
Every good poker room has a points, loyalty, or reward system… and Mansion Poker is no different.  Active players earn Mansion Club Points (clearing the bonuses in $10 increments).   As rakes increase, so do your point earnings.  If you're playing at the dollar level tables, then you'll likely earn about $2-3 in bonuses per hour.   Of course that amount goes higher if you play at the higher stakes tables.    The other loyalty system is Club Mansion which is basically your "play for points to redeem for poker gear  or cash rewards"… sort of like frequent flyer points.  The more you play the more points you earn.  And as a nice treat, Mansion Poker tiers your point earnings so you can earn proportionally more points the higher the tier level you are at (the more you play of course).   If you get good and consistent play at Mansion Poker, you should do pretty well points-wise.
Mansion Poker is known for having looser players with less experienced beginner playing base.  This can be a gold mine for more experienced online poker players.   Remember, nothing is static in the online poker world.  If you read this same post a year or two from now, the stats may be very different.  But with under $1 tables routinely pushing a 30-35% flop rate, for now at least, Mansion Poker is a good bet to start making some serious money.
When it comes to tournaments, Mansion Poker shines for a non-US poker room.  Evenings (Europe time) snags double-digit number of live tournaments.   You can opt for the guaranteed tourneys (no rebuy) – one that's particularly popular by players and other review sites is the $10,000 for ten bucks buy-in.  You usually get over a thousand players for that one.  There are other guaranteed tourneys as well and of course some re-buy tournaments where payouts can be as high as $50,000.  The biggest tournament is the Weekend $250,000 guaranteed tourney for a two hundred dollar buy-in.  Not the biggest you'll see in the online poker world, but no slouch either!  Of course, don't forget to check out the Sit-'n-Go's as well (which usually has decent, consistent traffic).
Everything else is pretty standard.  Mansion Poker has solid options for buying in and cash out is pretty clean and prompt.  Mansion Poker is not currently supported by the smokepoker.com Poker Bot, but that's okay… since I advocate playing on this site live (rather than automatic play).
I also strongly encourage you to check out the vast array of poker tools that are available if your purpose is in making  A LOT OF MONEY in online poker play.  You'd think that would be obvious, but a lot players like to play for fun the ol'fashioned way.  And there's nothing wrong with that as well.   It's entirely up to you – but one thing is for sure, Mansion Poker may not be in the biggest of Poker rooms out there, but it's definitely a diamond in the rough that's worth checking out!
To check out Mansion Poker and decide for yourself, click here for an exclusive 100% bonus up to $500.
SMOKEPOKER SOFTWARE REVIEW (OUT OF 5):