Poker News! Zynga's PokerBuddy, Full Tilt in France, & More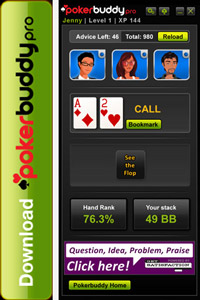 It's been a while since I've done a News post at SmokePoker.com.  So I thought I'd catch up with a few tidbits that have come my way that affect your online poker play world.
Here's what's new!
ZYNGA (Facebook) Poker
The good folks over at EV-plus have spend the last 2 years developing what I think will be an awesome new application category.  It's sort of a "smart" odds calculator that you can tailor to your playing style and can learn and adapt from the hands played.  It's called PokerBuddy Pro and it just launched hot off the assembly line.
Here's the rundown:  PokerBuddy Pro, created by EV-plus is an artificial intelligence application on crack!   The basic software is formed with 3 seapare personalities or what they call "advisors".  Each has a different method or style of play (ie. aggressive – loose or tight, versatile).   The advisors assess your hand based on their style of play.  What's really cool about this is the AI component to all of this.  The complex algorithm takes into account your hand, pot size, and the action at the table making lightning fast calulations.  So now you're armed with what to do based on YOUR style of play.   Why I like this is that you don't have a bot or calculator "telling" you exactly how to play through a generic odd-based interface.  Instead, you don't have to adapt YOUR style of play.  So – hopefully – the goal is that PokerBuddy Pro will make you a better player in your own style… and definitely a more succesful one.  After all, we can't change who we are and how we play – so why not make "you" a better "you" at the tables!
Finally, they've packed the software with some nice extra features like recording/replaying your games, sharing hands and advice in real time, and a training module to improve your game.   And best of all, PokerBuddyPro is FREE!   Try it out yourself and share your experience by posting comments below.
Bonjour!  Full Tilt Poker in France
It's true.  Full Tilt Poker is now in France with a full French version of their online softeare.   Note the "Full Tilt Poker.fr" domain extension.  Full Tilt Poker.fr is fully certified by ARJEL, the body responsible for the regulation of the French poker industry, and operates in accordance with new French legislation.   One thing to note, if you were a French player with a previous Full Tilt account, you will have to create a new accout on the .fr.  This is now the exclusive home for French Full Tilt players.
PokerOffice 5,5 is Now Released
A new version of the popular PokerOffice software is finally here.  PokerOffice claims improved overall performance (loads four times faster), new graphs (where you can zoom), and new cards in the Live Window.  But the big announcement is that PokerOffice now works with the Cereus and PacificPoker Networks.   Cereus is the large merged body that consists of Absolute and UltimateBet (where yours truly got his online poker start!) poker rooms.  What's notable is that these rooms DO accept US players!
In this release you will also find the Beta version of PokerOffice Omaha, which you will be able to test for free!
More to come….